THE UNEMPLOYED PHILOSOPHERS GUILD is all work, work, work.
Whether you work to put testaroli on the table and pay the mortgage on the yurt – or you're lucky enough to have a job you love – in which case, why would you ever leave? – make time for the finer funnier things in life.
UPG began millennia ago in ancient Athens. (We're kicking ourselves for not saving our ancient artifacts – which were new artifacts at the time... then used artifacts – and we would've had to schlep them through the Dark Ages and all those Witch Trials... if only we could remember where we buried them.) Anyway, we've been making things to crack people up for a long time, carrying on this age-old tradition from our Ivory Tower HQ in Brooklyn, New York. We hope you enjoy our artifacts.
The Unemployed Philosophers Guild. Work Hard/Plato Hard. Since 399 BCE.
To connect to our website, click here
For our image library, click here
To pay an invoice, click here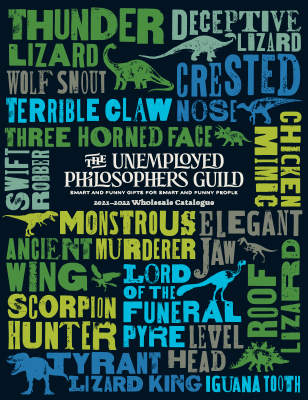 For our latest catalog, click here
To see our summer specials, click here